If you're the owner of a fitness, yoga, or Pilates business, or run another kind of health or wellness business, you're hopefully not broke.
But, you might still be on a shoestring budget and wondering what you should be doing to bring in new clients more consistently.
Bedros Keuilian actually was broke.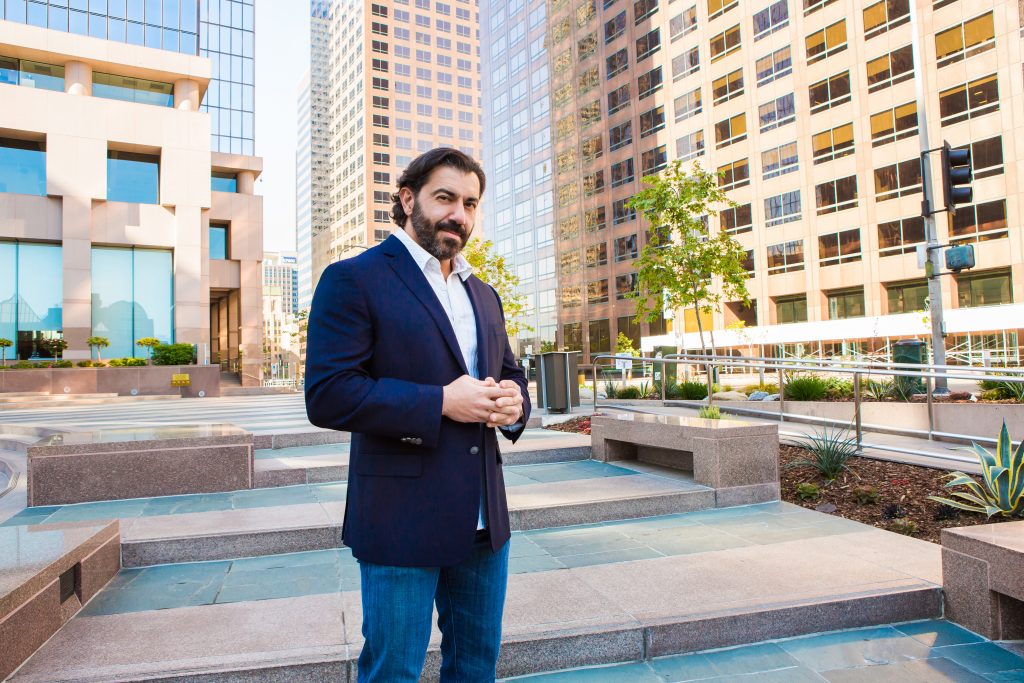 Now he makes a lot of money.
He created a fitness empire as the founder and CEO of Fit Body Boot Camp, named one of Entrepreneur Magazine's Top 15 Franchises.
He is also "a fanatical reader and student of marketing, selling, personal development, and delivering world class client service."
He also coaches and teaches fitness professionals how to get more clients.
In his "Fitness Marketing 101" video he shares his process for creating a funnel that helps fitness businesses turn leads into long-term clients.
Bedros calls this Fitness Marketing 101, but says in the video, "This isn't ground level stuff that you should ignore."
Instead, he says it's "foundational stuff" that all fitness businesses should be doing to bring in new clients.
All health, wellness, and fitness businesses can learn from this model and implement these tactics to start bringing in new clients right away.
80% of Your Clients Come From the Internet
Bedros first explains the 80/20 rule, which states that 80% of the causes come from 20% of the effects, or 80% of the sales come from 20% of the clients.
In this case, Bedros says that 80% of your clients come from the Internet, meaning Facebook or Google searches.
Which is why, even if you're a local business, you still need to put a lot of effort into your online presence.
People find and research businesses online before they'll ever go there in person.
And, before you tell me that Facebook is dead and no one uses it anymore, you should know that even as of early 2018, the Pew Research Center's social media use study stated that 68 percent of U.S. adults report that they are Facebook users, and about three-quarters of those users access Facebook daily.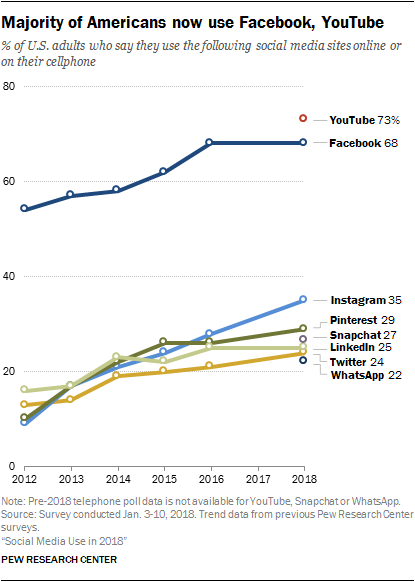 There are other platforms, of course.
Instagram is a notable one, especially with the younger demographic, and especially in the health and wellness world.
But, the point is that your business needs to be online because that's where you're going to get the majority of your customers.
Because so much of your business will come from the Internet, that's where you should focus most of your efforts.
Bedros talks through five steps to create a funnel on the Internet that converts leads into long-term clients.
Let's break down those five steps.
Step 1: Get Some Leads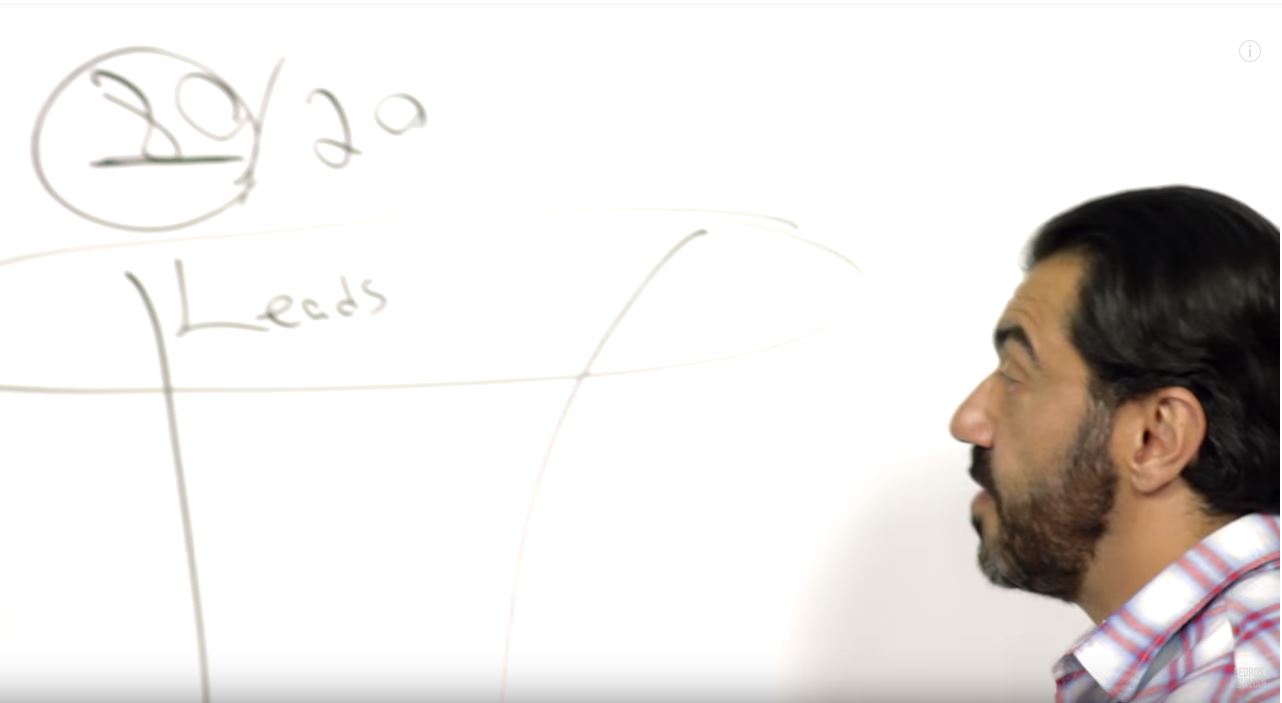 At the top of the funnel is Leads.
You have to create a place online that people can show some initial interest in your business.
Leads will progress through the funnel to become Prospects, then Short-Term Clients, then Long-Term Clients, if you follow this method.
To start getting these leads, Bedros recommends setting up a Facebook Business Page, which most businesses have already, but if you don't, they're easy to set up.
Once you have your Facebook Page set up for your business, you will start posting what Bedros calls "positive reinforcement messages" to your page, along with pictures of people working out (or using your services) in your facility regularly.
He recommends posting to your page at least three times a day.
Bedros also suggests tagging the clients who are in your pictures so their friends can see them working out, and you can start to build your audience on your Facebook page.
If you have just created a Facebook Page for your business, I would also recommend asking all of your existing customers to like your page.
You can do this through your email newsletters, a sign in your studio or office, as well as posting it on your website.
Tell your existing customers or clients that you have a new Facebook Page, you're going to start sharing valuable content there, and you'd appreciate if they followed you.
Then, you need to make sure you are actually posting valuable content on your page.
I like to share three different kinds of content:
Edu-tainment Content

Customer Stories Content

Offer Content
I explain each of those in more detail in this post about Omnipresence Content Marketing.
Step 1 Recap:
Create your Facebook Business Page.

Invite existing customers to like your page.

Start posting valuable content to your page, tag your clients, and ask them to share.
Step 2: Turn Leads Into Prospects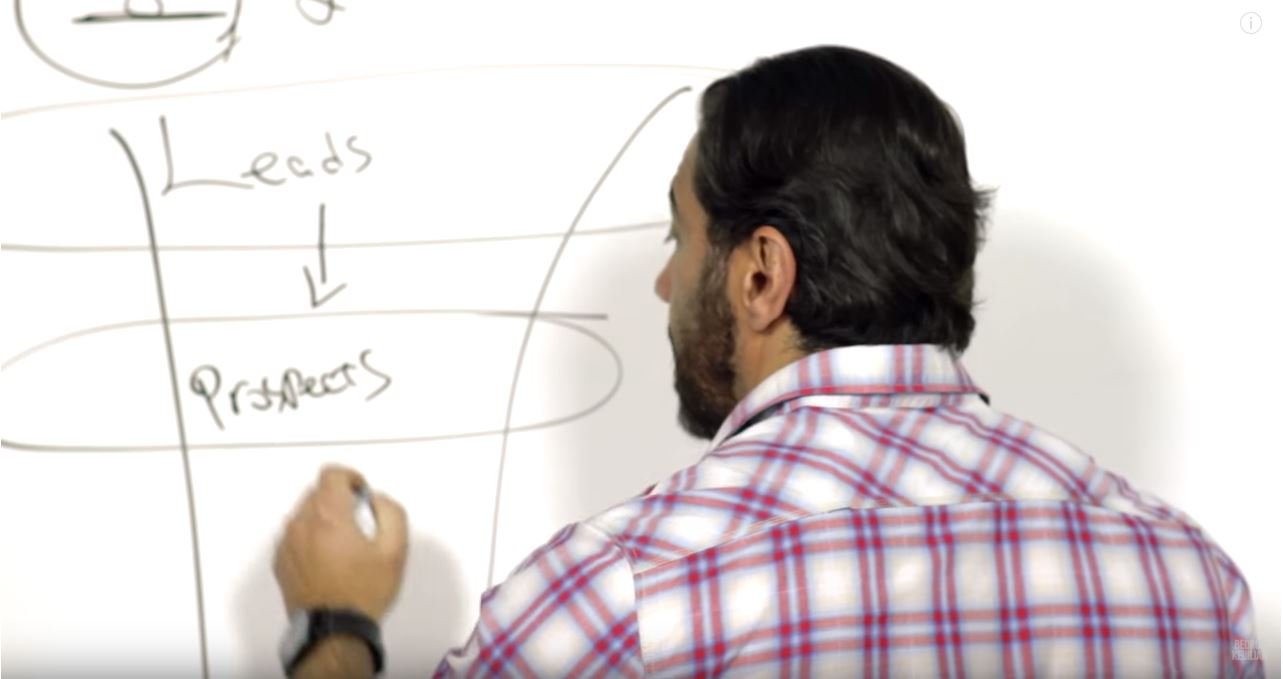 Once you've had your Facebook Business Page up and running for a while and have been posting good content, then it's time to start turning those leads into prospects.
Bedros says that once your page has at least 200 likes, it's time to start using Facebook to advertise to those fans.
But, you're not advertising your services.
Instead, you're using the ads to lead people from your Facebook page to what Bedros calls a "squeeze page," but others call a landing page.
This is a web page that offers a free report, nutrition guide, maybe a free video training with three yoga poses that help with back pain, or some kind of free information piece that your audience will find helpful to download.
You give this report to people for free after they give you their email address.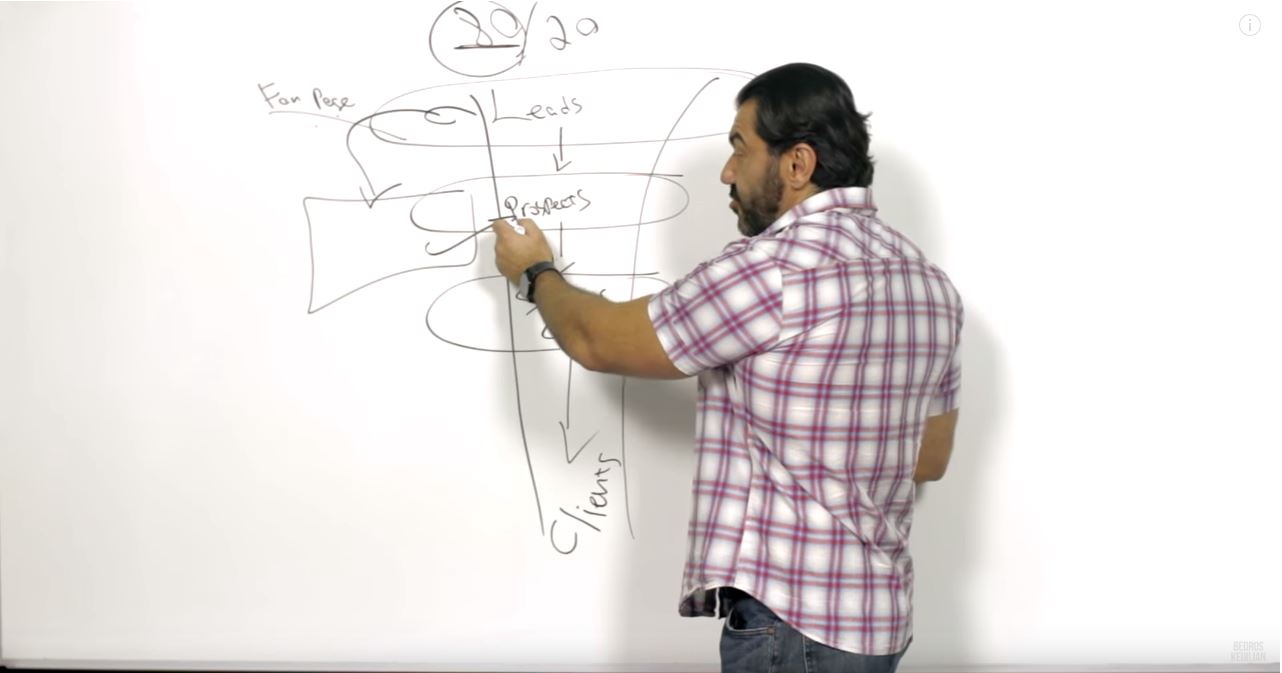 Once someone has given you their email address, they have now turned from a lead to a prospect and moved down the funnel.
One note about Facebook ads — I would not just advertise to the people that like your page, because they may already be mostly existing clients of yours.
They're already down at the bottom of the funnel.
Instead, with Facebook ads you can choose to advertise to the people that like your page and their friends.
This is why you want all of your existing customers to like your page.
You want to start spreading the message to the friends of your customers about who you are and the services you offer.
You want to turn your clients' friends from leads to prospects and, eventually into customers also.
You can also create audiences within Facebook ads to advertise to people local to your area, if you need to reach beyond the people who already like your page, or if you're still working to build the audience of your page.
Step 2 Recap:
Create a landing page that offers something for free, in exchange for their email address.

Start using Facebook ads to advertise this free offer to the people who like your page, plus their friends.

Consider creating a local audience within Facebook to advertise this landing page to also.
Step 3: Turn Prospects Into Short-Term Clients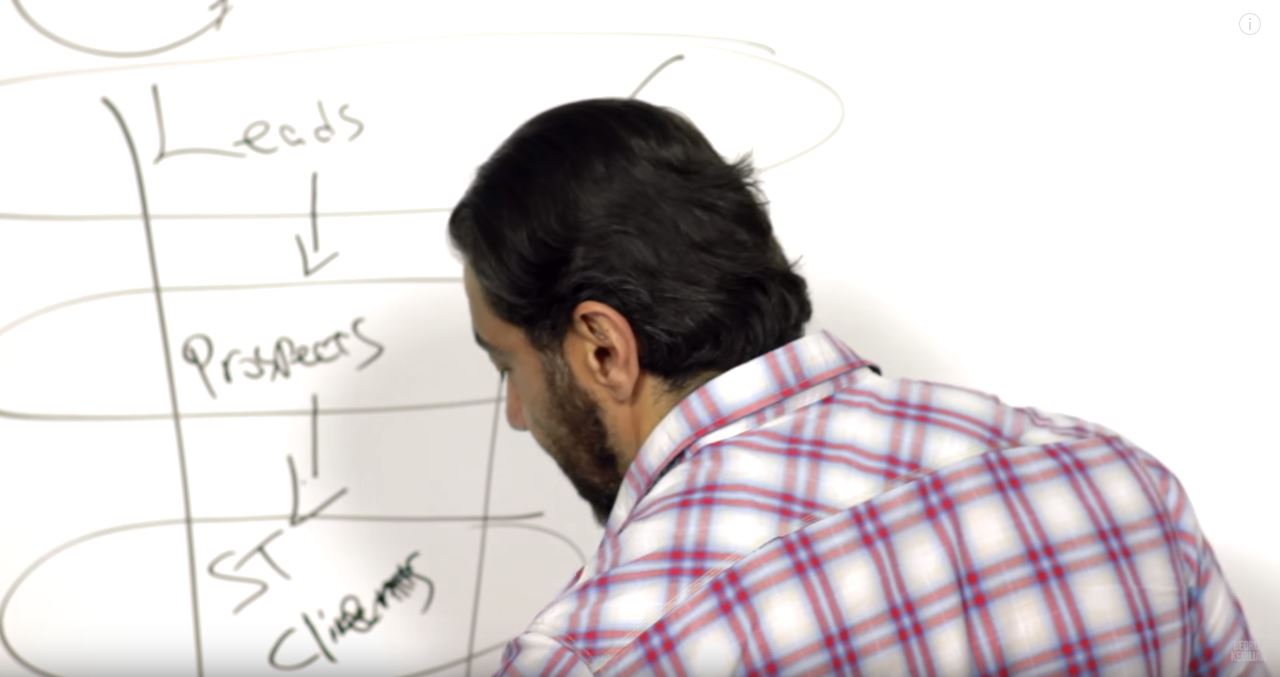 Once you've collected some email addresses from your landing page, you now have prospects.
These people are more than just leads.
They've liked your Facebook page.
They saw your ad.
They liked what you were offering.
And now they've given you their email address.
They're telling you that they're interested in what you're offering.
Now, it's time to convert these prospects into short-term clients.
Once you have an email list, you should be sending emails on a consistent basis, at least once a month with updates on what you're doing, offer some valuable information that will help them progress on their health and wellness journey, and offer specials, deals, tell about upcoming classes, etc.
It's important to remember when you're sharing content with your audience to serve first, and sell later.
Always offer value first before you try to sell.
But, for people that have just joined your list, you'll want to send them a series of automatic emails.
An email newsletter tool like MailChimp or Constant Contact can send out autoresponder emails that you set up ahead of time.
The first email can go out right after someone signs up for your list welcoming them, giving them information about your business, and the benefits they can get from your services.
A series of three to five emails spread out over one to two weeks is a good way to introduce your prospects to your business, provide value in those emails, and then eventually offer them a short-term program.
In the video, for fitness businesses specifically, Bedros recommends offering a short-term program, or a "low-barrier offer."
He gives examples like:
14-Day Fat Furnace Program

21-Day Rapid Fat Loss Program

28-Day Fat Belly Program

16-Day Sexy Slim Down
Bedros recommends that your short-term program is under 30 days, and is under $100.
You offer this short-term program to your prospects, who now "know, like, and trust you," because:
They've seen your Facebook content, and maybe they've seen that their friends go to your studio or business.

They gave you their email address in exchange for that training or content you offered.

They've received your autoresponder email series that provided additional value and told them about who you are and what you can do for them.
So then, when you offer them this low-barrier offer that is under 30 days and under $100, it's easy for them to say yes, and try you out for a low commitment.
Step 3 Recap:
Send a series of autoresponder emails to prospects as they join your email list that introduces you and your services.

Add all emails to your main monthly (or even more frequently) email newsletter list as well — always remember to serve first, and sell later.

After providing value to the prospects on your email list, offer a short-term program — something that's easy to say yes to.
Step 4: Turn Short-Term Clients Into Long-Term Clients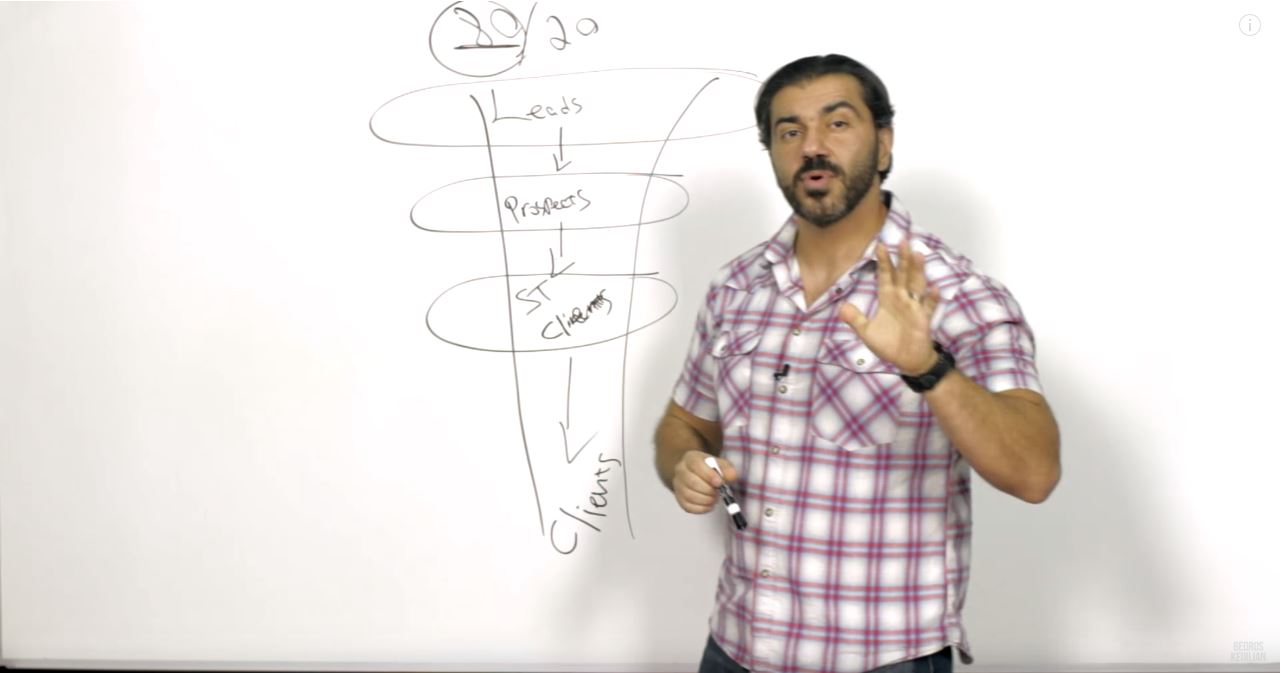 You now have new clients who are committed for 30 days or less.
That means you have 30 days (or less) to WOW them!
"Give them the best results, the best experience you can," Bedros says.
He then recommends that you schedule a nutrition consultation with each of these short-term clients before the 30 days is up.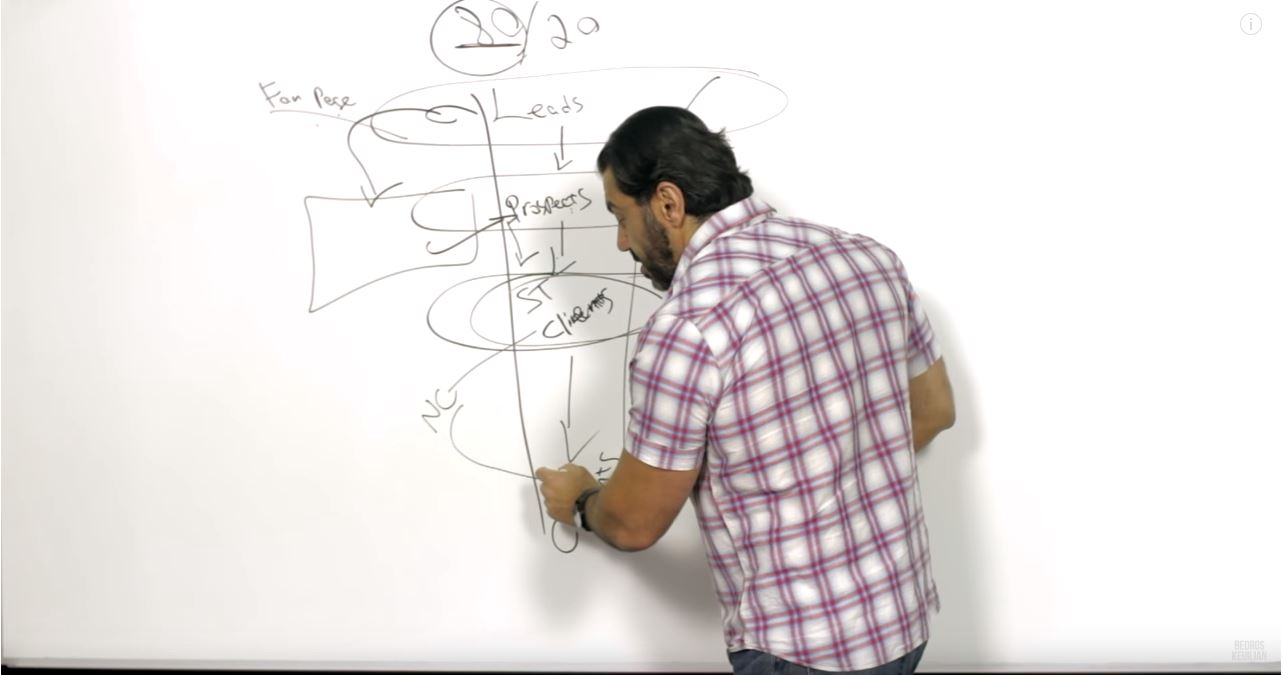 During this consultation, make sure to provide value first — talk to your clients about their health goals, give them recommendations on how to achieve those goals, including nutrition advice, as well as an exercise program.
But, during that consultation you are also going to offer them a long-term package to your facility — a 3-month, 6-month, or 12-month package.
Show them the different kinds of classes or services you offer, explain the benefits, and how signing up for the long term will help them meet their goals.
Depending on the kind of business that you have, this consultation or meeting may take different forms.
You could meet with them in person at your studio, it could be a check-in phone call, or you could even have a new series of autoresponder emails that go out to your short-term clients offering them a discount on long-term packages if they sign up before their initial program is over.
The personal touch of an in-person meeting or phone call with the owner, or an instructor or trainer is nice, if you can do that.
Once you get someone to sign up for a long-term program with you, you have successfully taken them all the way through your client-getting funnel.
Step 4 Recap:
WOW your clients during their short-term program — give them the great results you promised them.

Have a "nutrition consultation" (or something similar) with each short-term client before their initial program is over.

During the consultation, offer a long-term program and show them the benefits they'll get from signing up.
Step 5: Keep Using That Funnel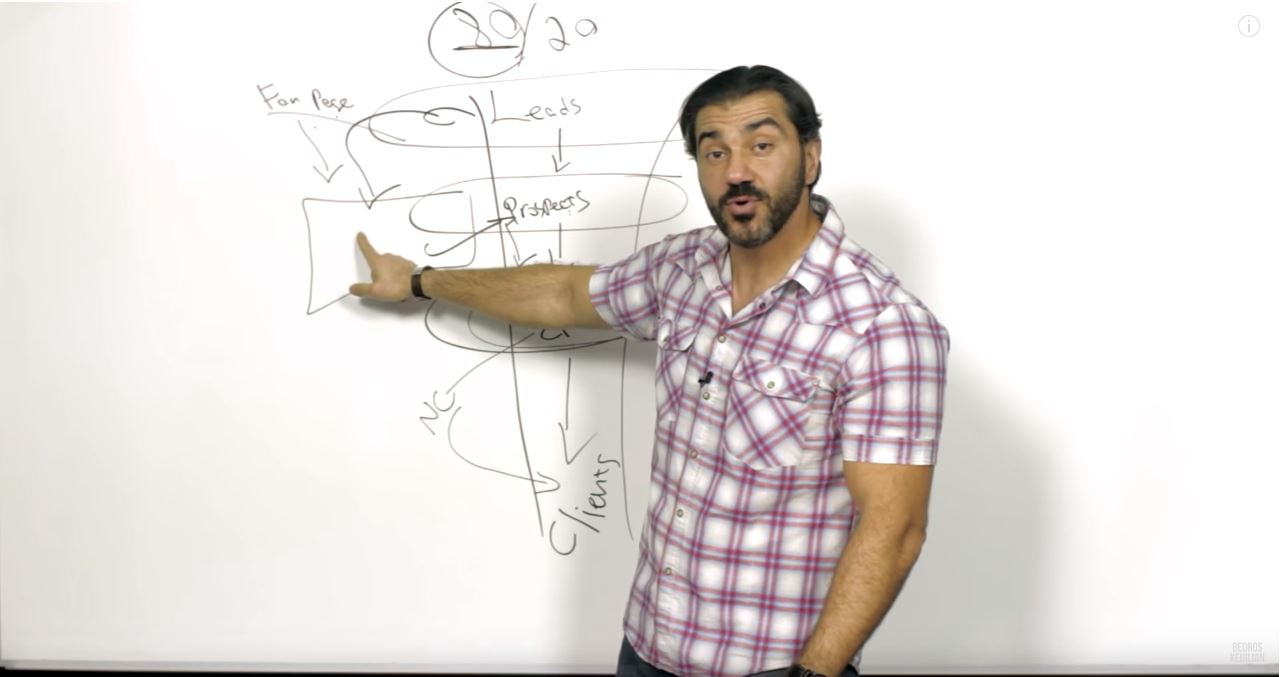 Once you have all the pieces of your funnel in place, and you are starting to move people through the different phases, you'll want to start driving even more traffic into your funnel.
You can do this in a number of different ways. Bedros lists off a couple in the video, including:
Try out additional Facebook (and Instagram) ads to different audiences (especially local audiences) to your "squeeze" page.

Create and share YouTube videos with information about the kind of services you provide (or examples of exercises, showing a training session, showing your special equipment, etc.). Include the link to your landing page in the description of the video, so that when people find your video they'll go to your landing page, see your free report/guide/training, and sign up for your email list.
Other ideas include:
Write blog posts with valuable content that help your audience

and then use the call to action at the end of the post to lead them to your landing page.

Turn the blog posts into social media posts and ads, as well, to build your social media following, and continue to grow your audience (thereby filling in the top of the funnel with those leads).

Use the

Omnipresence Content Marketing

method to test out a lot of different kinds of content on your Facebook page and then boost that content for $1 per day, to help you gain a wider following on your Facebook page, as well as promote your landing page offering.

Email your current clients about a referral promotion. Ask them to share a link to your landing page to their friends, and offer a prize or a bonus to everyone who does that.
Speaking of referrals…
Remember at the beginning of the video, I said that Bedros says that 80% of your clients will come from the Internet, so that's why he focused there?
The other 20% is from referrals (or other offline methods).
So, don't forget that once you have long-term clients, treat them like gold.
They are also helping you as sales people.
If they think you're amazing, they'll tell people.
They'll write reviews and recommendations, they'll provide awesome customer testimonials or case studies, and they'll help you get more customers.
Step 5 Recap:
Keep using that funnel you've created.

Keep directing traffic into your funnel. Try out different methods and find out what works best for you.

Treat your existing customers like gold and let them help you fill up your funnel too.
Five-Step Client-Getting Review
Bedros Keuilian is the master when it comes to fitness marketing. He's been doing it for a long time, and this video is only one of MANY videos he's made to help fitness professionals grow their business.
These strategies he's proposed for your business work.
Here's a quick review:
Step 1: Get Some Leads.

Start your Facebook Business Page, if you haven't already, and start posting helpful, valuable content regularly. Share with your existing customers and get them to like your page too.

Step 2: Turn Leads Into Prospects.

Create a "squeeze page" that provides something of value to your leads in exchange for their email address.

Use Facebook ads to start driving the leads from your Facebook page to that squeeze page.

Step 3: Turn Prospects Into Short-Term Clients.

Use autoresponder emails to continue providing value to the prospects on your email list, and then offer them a short-term program. This is a low-barrier offer: less than 30 days and less than $100.

Step 4: Turn Short-Term Clients Into Long-Term Clients.

Wow these short-term clients — show them everything you've got. Before the short-term program is up, provide a nutritional consultation (or some other kind of meeting/phone call) to provide additional value, and also offer a long-term program.

Step 5: Keep Using That Funnel.

Rinse and repeat. Try new ways of getting more leads and getting people to that squeeze page. And, don't forget to continue to provide amazing service to your long-term clients — they'll help you fill up the other 20% of your client-getting.
Watch The Full Video
Need More Help?
If you would like help creating and implementing this system, or any piece of the system, for your fitness, health, or wellness business, I would love to talk to you!
I help health and wellness businesses consistently bring in new clients every month with strategic content marketing that includes blog posts that turn prospects into customers and data-driven Facebook post boosts that help you reach more of your dream customers.
Let's schedule a call to talk about your business.

Please follow and like us: